If a picture is worth a thousand words, what about a wall full of them?
Who do you call when you have a store with some very big, very blank spaces? Your web designer of course! At least that's what Holly and Phillip Judd, owners of the Drug Store, Inc. in Little Rock, Arkansas, did.
In late 2015, the Drug Store moved to a new home, leaving the old space they'd been in for almost 30 years. The new space is bigger, brighter and they were able to design the interior the way they wanted it. Except, there were these 2 walls that when all was moved in were still blank. Very empty. Holly commented to me that she really wanted to do something unique there. Just didn't know what yet. But it should be noticeable and unique. Did I have some ideas?
Ideas were floated and dropped. At some point we landed on a collection of retro-styled images of drugstore related items for the smaller blank wall. I found 9 suitable images and processed to all harmonize together in an arrangement with 3 signs that were already there.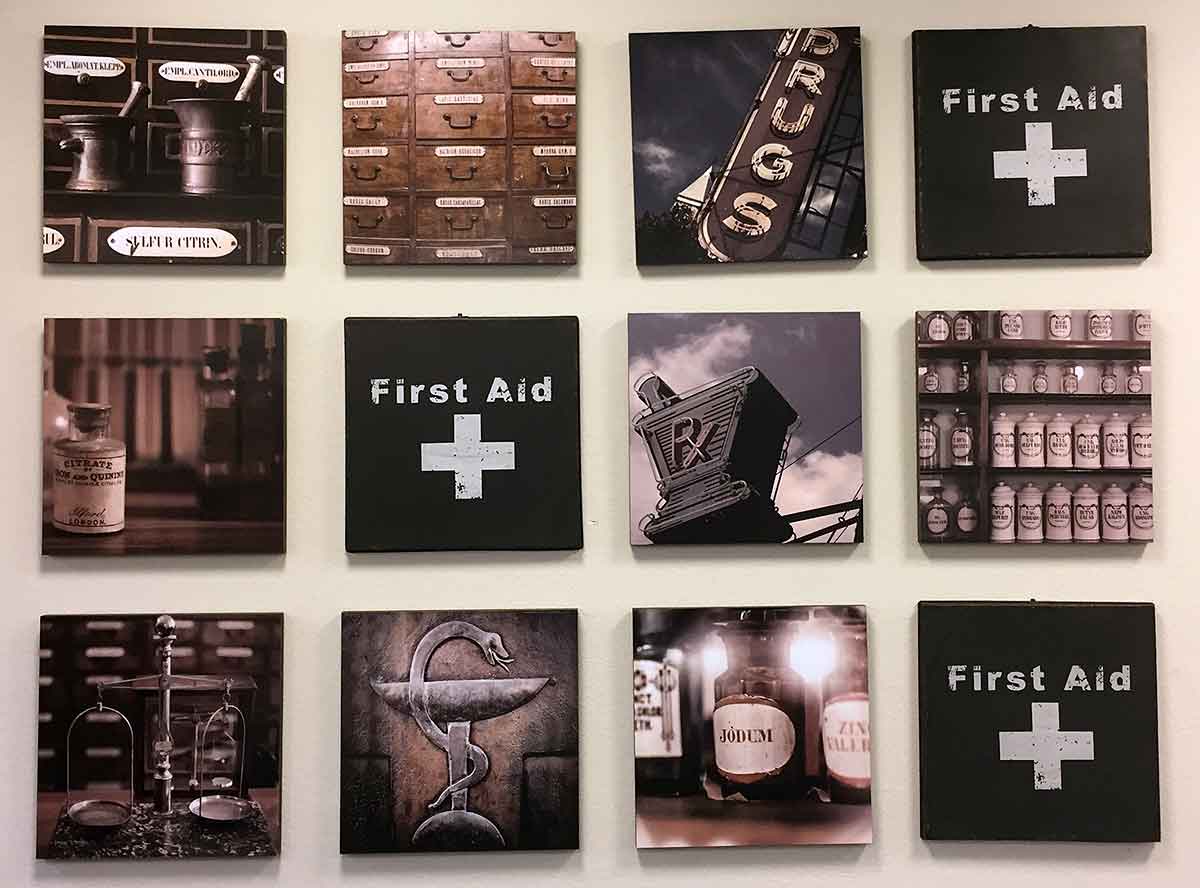 That was the easy wall space. The other wall was over 30' long and 4.5' high. The space over a long rack of greeting cards.
We talked mural painted on directly on the wall. There was an artist whose work I'd seen photographing the interior of a mansion and knew that could be a spectacular solution.
We talked about a photographic montage of images and words that would fill the wall. Even tested that the vinyl carrier would stick to the wall properly. We looked for image ideas and words or phrases related to pharmacies that could go on there. A few sketches didn't produce anything really memorable.
Such a wide space with relatively little height is challenging to fill with an image. Holly mentioned using a night image of the store front I'd shot for the website, but filling the entire width of the wall, it would look really strange, as if viewing a scene through a very narrow horizontal slit.
What about multiple images on the wall? I did another night shoot of the store, with all lights and signs lit and we selected several images: showing the store from different angles, a shot of the bottle chandeliers Holly had custom made for the store, a neon sign that came from the old store and still there was some space left.
What about a shot of the old store front, in the old location? I pulled out an image from a photo shoot I'd done there. But the building had been repainted at some point. So when the store opened back in 1986 it was more colorful than the uniform gray in the picture I had of it. And lots of other things were different.
We talked about doing a painting to capture the original store. In the end, Photoshop came to the rescue. Carefully recoloring the image, the gray gave way to burnt orange and green. Metal awnings were replaced with fabric awnings and the modernized store signs were swapped out with replicas of the original signs. Turning the time back, even if only in a photograph.
Now we had images ready to print. In sizing each image, I made sure to keep them within the limits of what could be output and mounted for us. FastSigns did the large format printing and mounted the images on 1″ foamcore to make them stand out from the wall and keep them stable, yet lightweight.
Then came the day when we could pick them up.
Now for getting them all up on the wall. I created a hanging system relying on brackets glued to the back of each picture and a hanging rail mounted on the wall. This makes it easy to put images up and take them down, as well as adjust their spacing, while keeping them on the wall rock solid.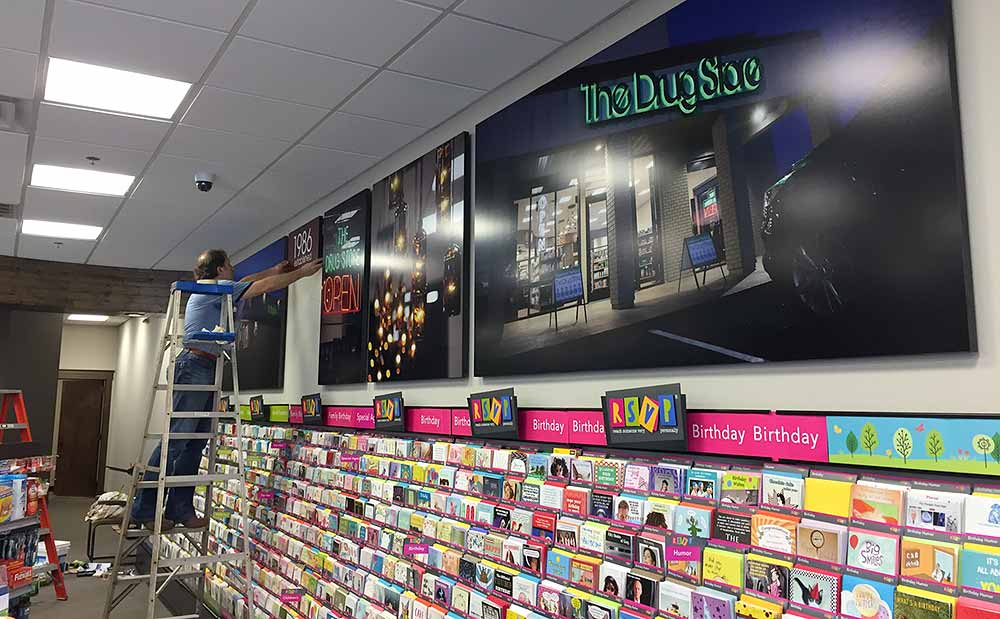 When the last image was placed on the wall, we all stood back and took in the scene. Not just the wall, but the entire store looked different. But that was of course the intention. No more bare walls, but instead a visually interesting environment, with walls that help tell the Drug Store's story, as well as connect into its heritage, both of this store and pharmacies back through time.
Stop by the Drug Store and take a look for yourself. 11121 N. Rodney Parham in the Market Place Shopping Center in Little Rock, Arkansas. TheDrugStoreLR.com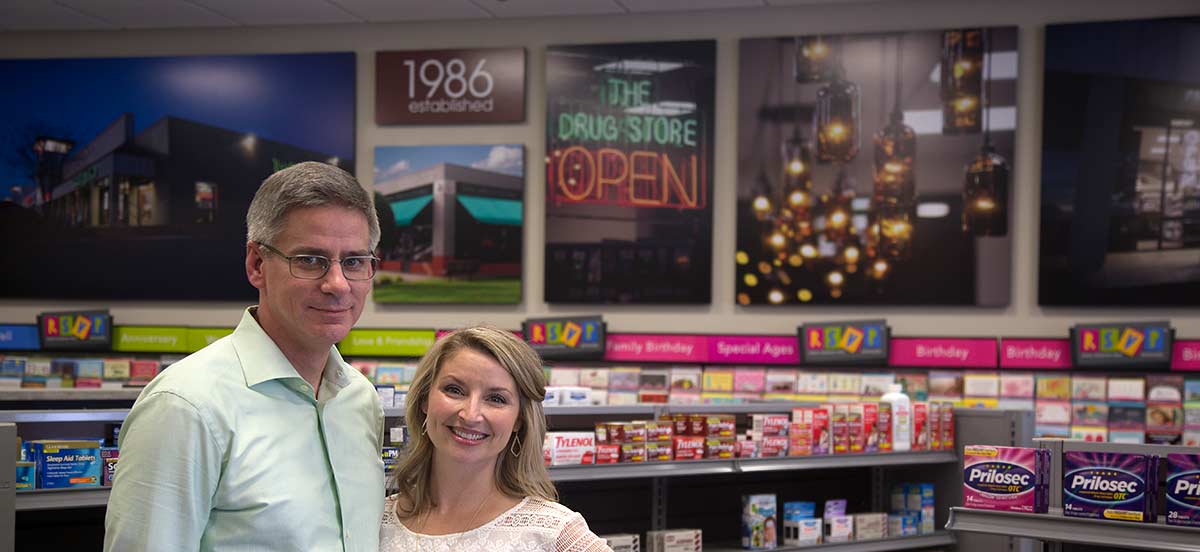 Never miss out!
Get an email update every time I publish new content. Be the first to know!